INTEGREAT provides professional Joinery Setting-Out and Design Development services to the Specialist Joinery and Interior Fit-out sector both at home and abroad. Our customer base is spread across the industry and includes Joinery Manufacturers, Interior Fit-out Contractors, Architects, Concept Designers & Engineers. Our services are extensive and include:

Technical Expertise
Our technical expertise, knowledge of the industry and capacity to problem solve is extensive. With over 20 years of experience to draw from, you can be assured our advice is based on sound practical solutions and buildable details.

Joinery Consultation and Advisory Service
Get INTEGREAT on board at the concept stage of your project and benefit from our vast experience to fine tune your designs with practical cost efficient methods of construction. Get that second opinion to unlock your ideas and develop your design.

Estimating & Quotation Service
Are you overstretched and under pressure to get those tenders out on time? Why not avail of our estimating and quotation service. Whether you have full B of Qs, specifications and drawings or simply have an idea, we have the capacity to work your details up and either fully price your next project or simply provide budget costings to assist you in making those critical design changes.

Site Surveying
Do you struggle to devote adequate time to conduct accurate site surveys? Would you increase your manufacturing capacity if you had someone reliable to conduct your surveys?
At INTEGREAT we can fill that role, our attention to detail at every survey we undertake is comprehensive, we will not only get you those vital site dimensions & templates but also look out for those potential problems waiting to trip you up.
Depending on the nature of the project, our survey data can be communicated in various forms from templates to cad files and from our base in Cork we will travel anywhere.

AutoCAD Setting-Out
Our office is fully Autodesk licensed, using the latest release of AutoCAD we will produce accurate manufacturing drawings for your client's approval along with all necessary cutting sheets, veneer schedules, ironmongery schedules, etc. If you do not have your own drawing templates, we will create them for you and issue drawings with YOUR company logo.
Our Setter-outs are all qualified and experienced Joiners/Cabinetmakers and have been setting-out joinery for over 20 years, their attention to detail is first rate and are always on hand to consult with your manufacturing & installation teams throughout the duration of a project.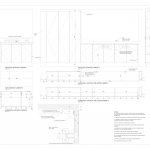 Autodesk Inventor Setting-out
Are you using Autodesk Inventor software in your manufacturing process? we can compliment your existing set-up by using the latest release of Autodesk Inventor to set-out your projects, we will provide you with Inventor part and assembly models and rendered 3D images.

Autodesk Showcase Visuals
Why not impress your clients with 3D visualisations of how their project will look in its environs, this could be the edge you are looking for.
At Integrate we utilise the latest release of Autodesk Showcase and create realistic 3D visualisations of how your projects will look, images can be still or full video format with moving parts. Not only will your clients be impressed but your manufacturing and installation team will also benefit.
As part of our setting-out services we will co-ordinate all aspects of any given setting-out project with all relevant parties to the project such as Architect, Engineers, Sub-Contractors, etc. With a firm believe in solving problems at design stage, we will ensure all details of a given project are fully worked through, communicated and recorded in an accurate and timely fashion.

Design Co-ordination & Management.